Now If your reading this, that means your like me and you wait to the last minute to get gifts, so I created a list of easy and quick gifts for Christmas!
Chocolate spoon
Now if your a chocolate lover like me and you have chocolate laying around the house well this is the gift for you.
Find any spoon (Preferably Plastic!)
Now find some kind of chocolate candy: Dark Chocolate, White chocolate, Hershey kisses, Chocolate chips. Almost any candy that melts!
Then melt the candy pour it into the spoon, let it dry, then make it look cute with wrapping paper! And wow! Quick and easy Christmas gift! YUM!
The You Book!
This one is an awesome gift, were all you need is paper and a pencil.
Fold around five papers in half, and staple them together. So it looks like a book. Then inside write about them. Write why you like them. Write poems. Write about your lives. Write about anything that will make them happy!
Rudolph Candy Bars
All you need is a Hershey bar or any candy bar. Then you need two candy-canes. Then get some paper and cut out a circle to be the nose and two leaf shapes, for the ears!
For Your MistleToes 
This may be the most simple gift, but one of the best!
All you need is Nail-Polish, a clear bag, and a cardboard tag as shown below.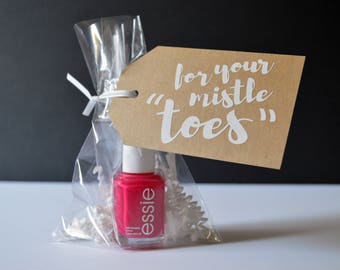 Snow Man Doughnuts!
This gift is also very simple. All you need is three white doughnuts, a clear-bag, and some paper to make a hat, eyes, smile, a nose, and a scarf.
Now, these are five awesome, easy Christmas gifts!
But in my opinion! I believe the best gift is just being there for your friend/family. Or a nice card, that is personalized for that person.
HAVE A GREAT HOLIDAY!